Virtual celebrations were never anything to think much of pre-covid. But as large parts of California are seeing themselves put through lockdown due to the pandemic, more states will follow. With the holidays approaching, many people are probably at a loss for how to safely celebrate with their loved ones. We've come up with a bit of a list on all the fun things you can do to virtually celebrate the holidays.
1. Play mixologist
If someone isn't telling you what their favorite holiday drink is, did the holidays even happen? Eggnog, white russian, Diet Dr. Peppermint Schnapps, gluhwein; the holidays are the time everyone brags about their favorite sips. Coordinate with loved ones ahead of time on base liquors and mixers to match drinks if you'd like. Or show off an eccentric new twist on holiday sipping with an all-new cocktail!
2. Playing virtual games
It may be a bit more difficult to play games virtually as opposed to in-person, but it won't be any less fun! Scattegories, Pictionary, What's My Name, Guess the Gift, Mafia; anything that won't require multiple sets of cards. Or if you don't mind that then there's always plenty of card-based games to choose from, including Uno.
There's also a virtual service called the Let's Roam Virtual Game Night. This includes one hour of planned, expertly executed virtual games for your family to enjoy. There's trivia, charades, drawing games, and games to be played virtually by family this holiday season. We recommend taking advantage of custom teammate trivia so everyone can learn even more about each other.
3. Escape Game Virtual Escape Room
Have you or someone in your family brought up the idea of attending an escape room? Although escape rooms seemed poised to knock back with the rest of the economy, The Escape Game leaped forward by rigging their rooms with cameras and setting up virtual clues for all to safely enjoy the same experience together. Using Zoom, a TEG host will join from the room to help your party get started and throughout the escape session. You'll work with your team to direct your guide through the adventure by pointing out clues and investigating rooms with your party.
If you've always wanted to try an escape room but haven't had the chance, The Escape Game's Virtual Escape Room may be your best chance this holiday season!
4. Toasts
While virtually visiting family members and friends, take the time to practice your public speaking skills by admonishing those you are grateful for with a toast. Review this chaotic year, highlight moments with family members that stand out for you, or toast to a simple "I love you all" and why. Toasting at the end of your virtual holiday time with loved ones is a memorable way to end a 2020 remote party.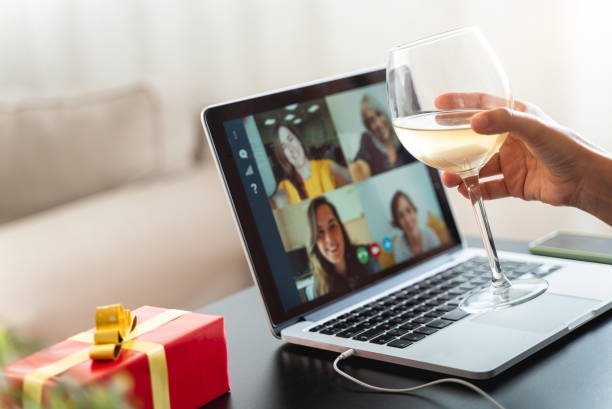 ---
---
---